National
June 06, 2022
Nupur Sharma was suspended from the Bharatiya Janata Party's main membership on Sunday for making provocative statements against Prophet Mohammad. Naveen Kumar Jindal, the party's spokesperson, has also been suspended. The move happened only hours after the BJP said that it respected all religions in a statement.
"Every faith has flowered and prospered over India's thousands of years of history. All religions are respected by the Bharatiya Janata Party. The BJP firmly condemns any disrespect to holy figures of any religion "Earlier in the day, it added in a statement.
"The Bharatiya Janata Party is also opposed to any ideology that denigrates or degrades any faith or group. The BJP does not support such persons or ideologies "It was said. "Every citizen of India has the freedom to practise any religion of his or her choosing, as well as to honour and respect all religions," the party stated.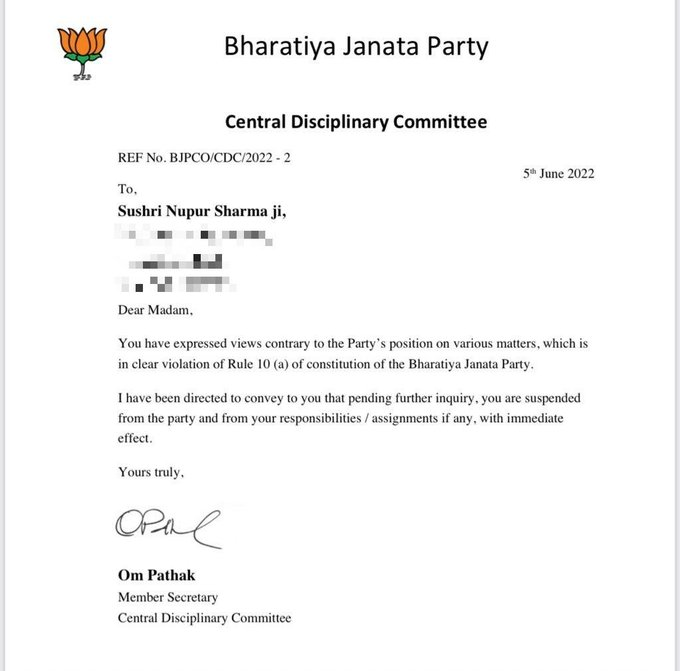 Sheikh Ahmad bin Hamad Al-Khalil, Oman's grand mufti, stated that the "obscene" words of India's governing party's spokesperson amounted to a "war against every Muslim."After two groups battled on Friday in Kanpur, Uttar Pradesh, over a proposal to close down marketplaces in response to the contentious statements, at least 40 people were hurt, including 20 police officers.One faction objected to the other's request for a closure, resulting in fights and stone-throwing events. To disperse the gathering and avoid additional violence, the police resorted to use tear gas shells. The police have made 36 arrests and filed charges against 1,500 individuals.Apart from the complaints filed in India, resentment has been growing in recent days in numerous Arab nations, including Kuwait, Qatar, and Saudi Arabia – all of which have close relations with India and are home to millions of expats – following statements and a tweet made by two BJP spokespersons.
By Subhechcha Ganguly
608